05 06 NISSAN ALTIMA SEDAN 4 DOOR HALOGEN HEADLIGHT BLACK LEFT DRIVER SIDE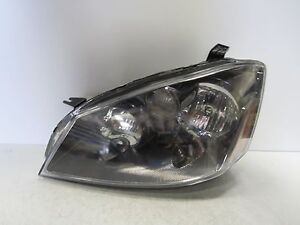 ---
Any Questions feel free to call us at:  
Factory Express Auto Parts
3370 San Fernando Rd#104
Los Angeles, CA 90065
IF YOU HAVE ANY ISSUES PLEASE CALL US BEFORE YOU OPEN A CASE!!ASKING A QUESTION ON AFTER THE SALE CAN AUTOMATICALLY OPEN A CASE!!WE ARE A PROFESSIONAL COMPANY DEDICATED TO OUR CUSTOMERS!!AGAIN CALL US BEFORE YOU OPEN A CASE!!
2005-2006 NISSAN ALTIMA HALOGEN HEADLIGHT
AFTERMARKET EAGLE EYES PART
LEFT SIDE (DRIVER SIDE)FITS 05-06 ALTIMA SEDAN (4DOOR)HALOGEN TYPEDARK INNER LENSE
GOOD CONDITION!
CLEAN & CLEAR LENSE!!
NO DAMAGED TABSALL BULBS INCLUDED!
TESTED AND WORKING!!
BUY HERE AND SAVE!!!
DISCLAIMERS:
RETURNS ACCEPTED 30 DAYS FROM RECEIPTPLEASE DO NOT PURCHASE FROM US IF YOU ARE EXTREMELY PICKY, EXPECT A BRAND NEW PART, NOT 100% SURE THIS IS THE CORRECT PART OR NOT SURE HOW TO INSTALL CORRECTLY.ALL PARTS MUST BE INSTALLED BY A CERTIFIED ASE MECHANIC.THESE ARE SENSITIVE PARTS, ALL BI XENON, LED ETC. PARTS MAY OR MUST BE CODED TO OPERATE PROPERLY WITH YOUR VEHICLE.THESE ARE NOT JUST PLUG AND PLAY PARTS. ADDITIONAL DIAGNOSTIC COMPUTER EQUIPMENT MAY BE REQUIRED AT OWNERS EXPENSE.IF YOU RECEIVE YOUR ITEM AND IT IS DAMAGED, PLEASE CONTACT US AS WE INSURE ALL OUR PACKAGES.PLEASE DO NOT OPEN A CASE IF THERE IS A PROBLEM. WE ARE PROFESSIONALS, PLEASE CALL US SO WE CAN HELP YOU RIGHT AWAY!PICTURES ARE OF THE ACTUAL ITEMWE DO OUR BEST TO DEPICT AND DESCRIBE OUR ITEMS, THIS IS A USED ITEM PLEASE DO NOT EXPECT IT TO BE PERFECTUSED: MEANS THIS PART CAME OFF A VEHICLE AND WILL HAVE SIGNS OF USE THAT MAY OR MAY NOT SHOW UP IN THE PICTURES