Calibration Tool Alignment Ruler Camera Lens Auto Focus Fold Card 2 Pack 689790291111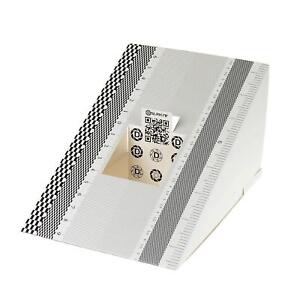 ---
Product Description This compact ruler allows you to determine if your lens is auto-focusing accurately as it should. It is an essential tool that is particularly useful when shooting with a shallow depth of field, where focusing should ideally be "spot on". You can use this ruler to determine how "off" the focusing is for a particular camera / lens combination and, on supported cameras, adjust the camera's auto-focus settings to resolve this On Nikon cameras, this feature is known as "AF Fine Tune". On Canon and Sony cameras, it's known as "AF Micro Adjustment". Please refer to your camera's instructions manual to see if this feature is present. Size:19*12.3cm Package Included: Lens Focus Calibration Card X 2

All our products are eligible for return within 30 days. Please feel free to contact us through if it's broken, damage or incorrect. We'll be more than happy to fix the issue right away.

Feel free to contact us anytime if there are any issues with yuour order and we'll be moire than happy to provide a resolution in a timely manner.  Our goal is to provide genuine customer service and 100% customer satisfaction.

We can only ship to the 48 US contiguous states. We do not ship to Hawaii, Alaska, Puerto Rico, PO BOX, APO/FPO, the Virgin Islands, Guam, or any US Military Base overseas.