Dental Tartar Calculus Plaque Remover Tooth Scraper,Scaler Mirrors kit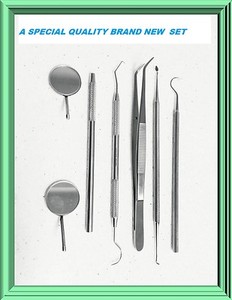 ---
WASHINGTON SURGICO  INSTRUMENTS ARE PRODUCED TO IT RIGID QUALITY CONTROL STANDARD AND IS UNCONDITIONALLY GUARANTEED TO BE FREE ROM DEFECT IN MATETIAL AND WORKMANSHIP.
OUR SURGICAL INSTRUMENTS ARE GMP,CE AND ISO 9002 CRTIFIED WHACH IS A SIGN OF PREMIUM STANDARD AT HIGHEST LEVEL.
ALL INSTRUMENTS ARE PASSIVTED WITH PROPER LENGTH OF TIME WITH NITRIC ACID TO INSURE REMOVAL OF ALL CARBON PARTICALS FROM SURFACE OF INSTRUMENTS TO AVOID RUST CONTAMINATION.
UP FOR AUCTION:
6 PC  Dental Tartar Calculus Plaque Remover Tooth Scraper, Mirror,Scaler Set    "ONE FREE MIRROR#5"
Surgical Dental Instruments
A SPECIAL BRAND NEW SET.
ASTM STANDARD STAINLESS STEEL
Rockwell hardness: 50 to 55 Degree.
100% SATISFACTION GUARANTEED.
BUY WITH COMPLETE CONFIDENCE.
COMBINED SHIPPING: EACH ADDITIONAL ITEM WON WITHIN THE SAME WEEK WILL COST ONLY $3 EXTRA FOR SHIPPING.
IF YOU ARE ORDERING MORE THAN ONE ITREM OR AUCTION, PLEASE WAIT FOR AN INVOICE SO WE CAN COMBINE YOUR SHIPPING CHARGES CORRECTLY.
SHIPPING CHARGES ARE NON REFUNDABLE. ALL ITEMS RETURNED MUST INCLUDE AN ORIGNAL PACKING MATERIAL.
SHIPPING: THE ITEM WILL BE SHIPPED WITHIN 1-3 BUSINESS DAYS AFTER PAYMENT IS RECEIVED.